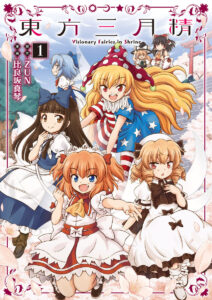 Considering the 25 year of history of Touhou Project is filled with many side content aside from the obvious music and games since 1999, there are several manga you can read set on the wonderful world of paradise. One of the said works that is officially sanctioned and written by ZUN are the Three Fairies series. Written by ZUN with input of several different artist as each run features different aspect of Gensokyo which is fantastical and supernatural.
The manga start with introducing the three fairies of light, Sunny Milk, whom have ability to bend the light, rendering things invisible, Luna Child, whom have ability to manipulate sound, and Star Sapphire whom have ability to sense waves. These three fairies doing pranks and discussing about nature of Gensokyo along with many Youkai that is featured on side content and games alike.
Click to the title listed below to read the manga, all of them are listed in chronological order.
Eastern and Little Nature Deity
Strange and Bright Nature Deity