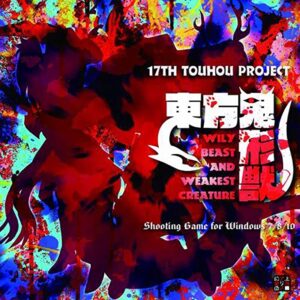 Touhou project as a franchise had a long history which makes it difficult for people to get into. Despite many fans recommending playing the 6th entry which is coincidentally the first Windows era entry, it was a terrible starting point for many people. Thus I made a concession to recommendation to play one of the latest entry, Touhou Project 17th Kikeijuu ~Wily Beast and Weakest Creature~ which commonly shortened to WBaWC.
Due to the nature of the game being a danmaku game, player must try to survive against barrage of bullet with 3 characters being offered, with each offering different playstyle. The staple pair of Reimu Hakurei and Marisa Kirisame offers playstyle with former specialise in homing attack is while the latter specialise in stronger direct shot, in addition of returning character introduced on 7th entry, Perfect Cherry Blossom as playable character Youmu Konpaku which offer swordmaster style of gameplay in the game.
Each character may pick one of the 3 spirit to resolve the incident of the game with each related to the animals spirit from hell. Eagle goast gave firepower increase on unfocused shot, Otter goast gave you better protection and empower your spell card (just call it bomb), while Wolf goast gave firepower increase on your focus shot. Each have their own dialogue variation.
The only cons for getting this game is that it only available in Japanese, however there is a community that manages to made easy to operate patch installer to enjoy the game on your chosen language. You can enjoy the game using Touhou Community Reliant Automatic Patcher (commonly known as TouhouCRAP) which conveniently translated the game config as well.
The game is available on sale at Steam and DLSite